Bouken Jikuu Timenet
From Sanrio Wiki
Jump to navigation
Jump to search
WARNING: This article contains material which may not be age appropriate, upset and/or offend some readers. Viewer discretion is advised.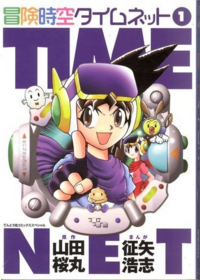 Bouken Jikuu Timenet (Japanese: 冒険時空タイムネット) is a manga created by Sakuramaru Yamada and illustrated by Hiroshi Soya, based on the video games Sanrio Timenet: Kako Hen and Mirai Hen but with only characters, monsters introduced in those games and without original Sanrio characters.
The manga is copyrighted to Timenet, which was a subsidiary company of Imagineer.
It debuted in 1999 in the magazines Shougaku Gonensei and Shougaku Rokunensei from April 1999 to February 2000 and received two tankōbon.
The manga is notable for its controversial 'off-color humour' abusing themes including blood, nudity (censored) and near-death experience.
Table based on the one found at Japanese Wikipedia.
See also: Bouken Jikuu Timenet: Tankōbon 1, Bouken Jikuu Timenet: Tankōbon 2