Charles M. Schulz
From Sanrio Wiki
Jump to navigation
Jump to search
This article or section is about a person. While adding images to this article, please respect their privacy by not adding images from social media or university/college/study institutions, but officially published Sanrio interview images are allowed.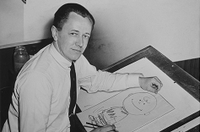 Charles M. Schulz was a popular cartoonist from Santa Rosa, California in the United States, born on November 22, 1922.
He was responsible for the Peanuts franchise and Peanuts comic strip series.
Charles passed away in his sleep on February 12, 2000 due to colorectal cancer.