Hirokazu Tanaka
From Sanrio Wiki
Jump to navigation
Jump to search
This article or section is about a person. While adding images to this article, please respect their privacy by not adding images from social media or university/college/study institutions, but officially published Sanrio interview images are allowed.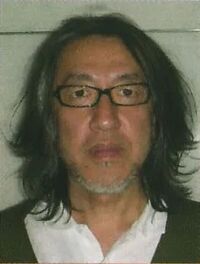 Hirokazu Tanaka (kanji: 田中 宏和) (nicknames "Hip Tanaka", "Chip Tanaka"), born December 13, 1957[1] is the president of Creatures, Inc., formally Ape. He is a famous musician and engineer, especially in Japan, specializing in chip music; in particular for arcades, Nintendo Entertainment System, Game Boy, Game Boy Color and other mediums; such as anime music.
In fact, the Super Mario Land series, Metroid series (too many to list!) and other popular Nintendo franchises (including Pokémon's sub-franchise of anime) is sometimes synonymous with him amongst fans.
He has worked on Hello Kitty World (Famicom), Snoopy Concert music. He has produced albums from time to time.
While speculative, his demo song "Small Gift" from the Hirokazu Tanaka: Lost Tapes album release might be a reference to Sanrio's motto "Small Gift, Big Smile" for an unknown game.
He loves complex systems (may be relevant:

chaos theory

), themes such as

vacuums

, the

sporadic

concept or sporadicness (in

group theory

or

maths

?); his official website is called "Sporadic Vacuum". It might just be his charm, or he does it for inspiration, poetry, or 'music in word'?
He is relatively proficient in English, though his lyrics to Summer Demo may be difficult to hear.
The Kid Icarus series enemy Specknose is also a parody of Hirokazu Tanaka, his glasses and nose.
References
[
edit
]