Hisato Inoue
From Sanrio Wiki
Jump to navigation
Jump to search
This article or section is about a person. While adding images to this article, please respect their privacy by not adding images from social media or university/college/study institutions, but officially published Sanrio interview images are allowed.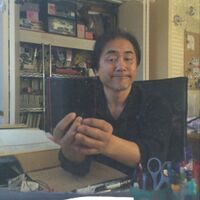 Hisato Inoue (Japanese: 井上ヒサト) is a freelance artist, and former Sanrio character artist.
Inoue has also worked for the company Inspace, where he collaborated with Imagineer and Timenet's licensed Sanrio game Sanrio Timenet: Kako-Hen and Mirai-Hen.