Katsutoshi Fujioka
From Sanrio Wiki
Jump to navigation
Jump to search
This article or section is about a person. While adding images to this article, please respect their privacy by not adding images from social media or university/college/study institutions, but officially published Sanrio interview images are allowed.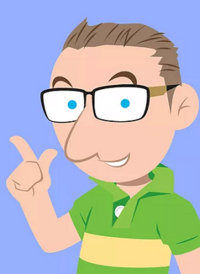 Katsutoshi Fujioka (kanji: 藤岡 勝利), based in Okayama is a Japanese artist. Formally working under office design in Tokyo, he has since become independent.
His most popular works include video games such as games in the Sa・Ga series, and Medarots on the Game Boy. He has also done cover art for magazines Marukatsu Famicom and Marukatsu PC Engine (マル勝ファミコン, マル勝PCエンジン) for almost four years.
For Imagineer and Timenet, Fujioka worked on the art for Sanrio Timenet: Kako-Hen and Mirai-Hen, the package and manual art of Space-Net: Cosmo Red and Cosmo Blue (with Yoshikazu Miyao, Motonobu Kawashima)[1] as well as the logo of Space-Net: Cosmo Neo.

External links
[
edit
]
References
[
edit
]