Little Miss Inventor (book)
From Sanrio Wiki
Jump to navigation
Jump to search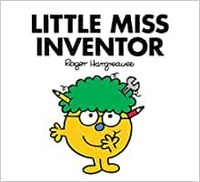 Little Miss Inventor (ISBN 978-1405288873 and ISBN 978-1-4052-9294-8) is a book by Adam Hargreaves published in 2018, featuring the Little Miss character Little Miss Inventor.
The book comes in different designs; some with equations in the background, some without any. There is also a much larger version of the book compared to classic Mr. Men and Little Miss books. The book revealed the winner of the Little Miss Inventor Challenge.

Synopsis
[
edit
]
The book reveals Little Miss Inventor and how she creates creative/innovative inventions, as well as her home; a house she built herself on wheels. She is also revealed to read lots of books and live amongst many inventions she created herself, such as the electro-zapper egg boiler or the brillo-bristle teeth brusher and super-speedy-reader page turner.
Little Miss Inventor makes inventions for her friends, such as Little Miss Dotty's line marker, Mr. Chatterbox's chatter-natter hat, Mr. Tickle's back-pack-snack-attack fridge, but one day she wanted to make a present for Mr. Rude and didn't know what to create. In the end, Little Miss Inventor made a machine that made rude noises for him; and ideally no one finds him rude anymore, just funny due to the noises he makes using the machine.