Onegai My Melody (original anime)
From Sanrio Wiki
Jump to navigation
Jump to search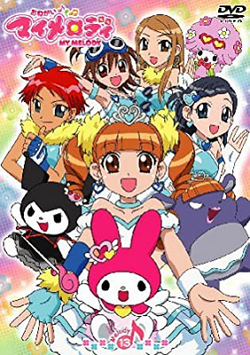 The original Onegai My Melody (Japanese: おねがい♪ マイメロディ) anime series is a sub-series of the Onegai My Melody franchise starring My Melody. It made its debut on April 3, 2005 and ran until March 26, 2006 and introduced main characters such as Uta Yumeno, Keiichi Hiiragi and Kuromi.
Localisation
[
edit
]
It appears to have had a (now obscure) English dub that was only available in parts of Asia for Cartoon Network called Please My Melody (a literal translation of Onegai My Melody), and another name of a dub is rumoured to be My Melody's Magical Adventure. It seems it was going to be aired in the United Kingdom for the Cartoon Network subsidiary there as well, but cancelled. There is another rumour regarding its airing in the United States too.[1][2][3]
Episode list
[
edit
]
The following table is a list of Onegai My Melody episodes, heavily based on the episode list on the Japanese Wikipedia article for Onegai My Melody and a list of translated episode titles on the website Ranker.
| Episode number | Romanization of Japanese Name | Translated Japanese Name[4] | Japanese Name[5] | Release date |
| --- | --- | --- | --- | --- |
| 1 | Violin Hajiketara Ii Na! | It would be nice to play the violin! | バイオリン弾けたらイイナ! | April 3, 2005 |
| 2 | Benkyou ga Dekitara Ii Na! | It would be nice to be able to study! | 勉強ができたらイイナ! | April 10, 2005 |
| 3 | Tomodachi ga Takusan de Kitara Ii Na! | It would be nice to have so many friends! | 友達がたくさんできたらイイナ! | April 17, 2005 |
| 4 | Ouchi ga Kirei ni Nattara Ii Na! | It would be nice if the house becomes clean! | おうちがキレイになったらイイナ! | April 24, 2005 |
| 5 | Yuushou Dekitara Ii Na! | It would be nice to win! | 優勝できたらイイナ! | May 1, 2005 |
| 6 | Mukashi ni Modoretara Ii Na! | It would be nice to return to the past! | 昔にもどれたらイイナ! | May 8, 2005 |
| 7 | Gomentte Ietara Ii Na! | It would be nice to be able to say sorry! | ゴメンって言えたらイイナ! | May 15, 2005 |
| 8 | Kawaiku Nattara Ii Na! | It would be nice to become cute! | かわいくなったらイイナ! | May 22, 2005 |
| 9 | Nawatobi Takusan Tobetara Ii Na! | It would be nice to skip as many times! | 縄とびたくさん跳べたらイイナ! | May 29, 2005 |
| 10 | Hero ni Naretara Ii Na! | It would be nice to become a hero! | ヒーローになれたらイイナ! | June 5, 2005 |
| 11 | Oryouri Jouzu ni Naretara Ii Na! | It would be nice to become good at cooking | お料理上手になれたらイイナ! | June 12, 2005 |
| 12 | My Melo-chan ni Aetara Ii Na! | It would be nice to meet My Melo-chan! | マイメロちゃんに会えたらイイナ! | June 19, 2005 |
| 13 | Kokoro ga Toketara Ii Na! | It would be nice to be able to break a heart! | 心がとけたらイイナ! | June 26, 2005 |
| 14 | Rival ni Katetara Ii Na! | It would be nice to win over my rival! | ライバルに勝てたらイイナ! | July 3, 2005 |
| 15 | Mou Ichido Utaetara Ii Na! | It would be nice to be able to sing one more time! | もう一度歌えたらイイナ! | July 10, 2005 |
| 16 | Kiss Dekitara Ii Na! | It would be nice to be able to kiss! | キスできたらイイナ! | July 17, 2005 |
| 17 | Yasai ga Suki ni Nattara Ii Na! | It would be nice to like vegetables! | 野菜が好きになったらイイナ! | July 24, 2005 |
| 18 | Jikan ga Ippai Attara Ii Na! | It would be nice to have more time! | 時間がいっぱいあったらイイナ! | July 31, 2005 |
| 19 | Hero ni Naretara Ii Na 2! | It would be nice to become a hero 2! | ヒーローになれたらイイナ2! | August 7, 2005 |
| 20 | Hoshi o Issho ni Miretara Ii Na! | It would be nice to be able to see the stars together! | 星をいっしょに見れたらイイナ! | August 14, 2005 |
| 21 | My Melo ni Naretara Ii Na! | It would be nice to become My Melody! | マイメロになれたらイイナ! | August 21, 2005 |
| 22 | Mama ga Genki ni Nattara Ii Na! | It would be nice if Mama can become happy! | ママが元気になったらイイナ! | August 28, 2005 |
| 23 | Kare to Odoretara Ii Na! | It would be nice to dance with him! | カレと踊れたらイイナ! | September 4, 2005 |
| 24 | Nice Buddy ni Naretara Ii Na! | It would be nice to become nice buddies! | ナイスバディになれたらイイナ! | September 11, 2005 |
| 25 | Tetsudatte Moraetara Ii Na! | It would be nice to receive help! | 手伝ってもらえたらイイナ! | September 18, 2005 |
| 26 | Champion ni Naretara Ii Na! | It would be nice to become a champion! | チャンピオンになれたらイイナ! | September 25, 2005 |
| 27 | Hiiragi-sama ni Naretara Ii Na! | It would be nice to become Hiiragi-sama! | 柊サマになれたらイイナ! | October 2, 2005 |
| 28 | Ashita Haretara Ii Na! | It would be nice if tomorrow is sunny! | あした晴れたらイイナ! | October 9, 2005 |
| 29 | MadonNa ni Naretara Ii Na! | It would be nice to become MadonNa! | マドンナになれたらイイナ! | October 16, 2005 |
| 30 | Kodomo ni Modottara Ii Na! | It would be nice to be a child again! | 子供にもどったらイイナ! | October 23, 2005 |
| 31 | NO! to Ietara Ii Na | It would be nice to be able to say NO! | NO!と言えたらイイナ! | October 30, 2005 |
| 32 | Lucky ni Naretara Ii Na! | It would be nice to become lucky! | ラッキーになれたらイイナ! | November 6, 2005 |
| 33 | Minna Kite Kuretara Ii Na! | It would be nice if everyone can come! | みんな来てくれたらイイナ! | November 13, 2005 |
| 34 | Hero ni Naretara Ii Na 3! | It would be nice to become a hero 3! | ヒーローになれたらイイナ3! | November 20, 2005 |
| 35 | Shiawase ga Mitsukattara Ii Na! | It would be nice to be able to find happiness! | 幸せが見つかったらイイナ! | November 27, 2005 |
| 36 | Chikyuu ga Sukuetara Ii Na! | It would be nice to be able to save the earth! | 地球が救えたらイイナ! | December 4, 2005 |
| 37 | Jungle de Aetara Ii Na! | It would be nice to be able to meet in a jungle! | ジャングルで会えたらイイナ! | December 11, 2005 |
| 38 | Shou ga Toretara Ii Na! | It would be nice to win a prize! | 賞がとれたらイイナ! | December 18, 2005 |
| 39 | Okaasan ni Aetara Ii Na! | It would be nice to be able to meet mother! | お母さんに会えたらイイナ! | December 25, 2005 |
| 40 | Daikichidattara Ii Na! | It would be nice to get good luck! | 大吉だったらイイナ! | January 1, 2006 |
| 41 | Number One ni Naretara Ii Na! | It would be nice to become No. 1 | ナンバーワンになれたらイイナ! | January 8, 2006 |
| 42 | Tanoshii Nikki ga Kaketara Ii Na! | It would be nice to be able to write a happy diary! | 楽しい日記が書けたらイイナ! | January 15, 2006 |
| 43 | Kokuhaku Dekitara Ii Na! | It would be nice to be able to confess! | 告白できたらイイナ! | January 22, 2006 |
| 44 | Ojou ni Totsunyuu Dekitara Ii Na! | It would be nice to be able to break into the castle! | お城に突入できたらイイナ! | January 29, 2006 |
| 45 | Kiss Dekitara Ii Na 2! | It would be nice to be able to kiss 2! | キスできたらイイナ2! | February 5, 2006 |
| 46 | Ippatsu Punch Dekitara Ii Na! | It would be nice to be able to give one punch! | 一発パンチできたらイイナ! | February 12, 2006 |
| 47 | Ouchi ni Kaeretara Ii Na! | It would be nice to return back home! | おうちに帰れたらイイナ! | February 19, 2006 |
| 48 | Minna Isshodattara Ii Na! | It would be nice for everyone to be together! | みんな一緒だったらイイナ! | February 26, 2006 |
| 49 | Poem ga Kaketara Ii Na! | It would be nice to be able to compose a poem! | ポエムが書けたらイイナ! | March 5, 2006 |
| 50 | Senpai o Sukuetara Ii Na! | It would be nice to be able to teach my senior! | センパイを救えたらイイナ! | March 12, 2006 |
| 51 | Takuto o Furetara Ii Na! | It would be nice to be able to touch the baton! | タクトをふれたらイイナ! | March 19, 2006 |
| 52 | Yume no Uta ga Todoitara Ii Na! | It would be nice for the song of dreams to reach out to all! | 夢の歌がとどいたらイイナ! | March 26, 2006 |
References
[
edit
]