Pocket Hello Kitty
From Sanrio Wiki
Jump to navigation
Jump to search
Pocket Hello Kitty
Publisher(s)
Nintendo
Release date(s)

August 21, 1998



Genre
Minigames, step counter
Platform(s)
Self-contained
Player mode(s)
One player
The Pocket Hello Kitty (Japanese: ポケットハローキティ) is a self-contained video game published by Nintendo based on Hello Kitty that is similar to Nintendo's Pokémon Pikachu and Pokémon Pikachu 2 GS. It has buttons similar to those on a Game Boy, in that it includes two circular buttons, two buttons with a shape similar to an oval on its side, and a directional pad. It also has a reset button.
It was sold with a suggested retail price of 2500 yen (excluding tax).
The game has a built-in step counter and encourages walking with its "Kitt" point system; a currency also used in the unreleased Hello Kitty Pocket Camera.
The Pocket Hello Kitty can be attached to the body so that the player can raise the step counter by walking around.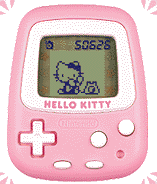 Kitty Forest
[
edit
]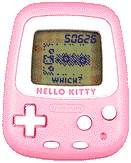 Kitty Forest (Japanese:キティの森) is a minigame included in the software. It is described as a fun minigame where the player proceeds through a forest. In order to enter Kitty Forest, the player must collect "Kitt" by walking around. 25 Kitt are required to play the game. The official Nintendo mini-site suggests that players can obtain a rare item.[1]

Animations
[
edit
]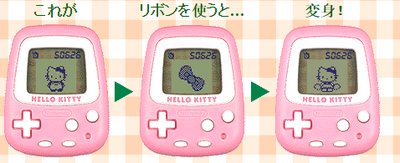 After the player obtains an item, they can use it to enjoy a cute animation of Hello Kitty. Items include (and are likely not limited to) a tennis racket, a ribbon and a phone.
When Hello Kitty is present on the screen, shaking the Pocket Hello Kitty may result in a message from Hello Kitty, including "HELLO" for when she is using the telephone.[2]

Meeting friends
[
edit
]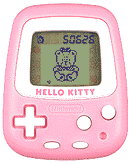 While the player is using an item, they can encounter friends. The more that the player walks, the greater chances that they will encounter a friend. Friends will be added to the "Friend Notebook". [3]

External links
[
edit
]
References
[
edit
]