Main Page
From Sanrio Wiki
Jump to navigation
Jump to search
Welcome to Hello Kitty + Sanrio Wiki:
We are an unofficial wiki about the entirety of the Japanese company Sanrio, its subsidiaries and partners.
Sanrio is a lifestyle brand inspired by the philosophy "Small Gift Big Smile". It is known for its many cute characters such as Hello Kitty, My Melody and Cinnamoroll and also works in areas including the animation and publishing industries.
With a company as large as Sanrio, we have lots and lots to write about. Any contributions are certainly welcome. Short articles or stubs are welcome too, as this wiki is still relatively very small in relation to the whole company.
However, please do not intentionally vandalise a page, or send spam or use a bot to do it, it will have to be deleted to maintain the wiki and for safety.
---
For parents; please note: many of the most successful companies, with Sanrio no exception (though aimed at children), unfortunately have controversial works - sometimes these are discontinued and left in obscurity. This can include inappropriate content. Sometimes this is not intended due to differences in culture, stigmas differ, such as between Japan and Western society and the topics can be misunderstood. The following link documents them. Category:Articles which may be upsetting or inappropriate for younger audiences
---
There are 1,097 articles on this wiki, which began in 2015.
You can find them on Special:AllPages.
---
How to edit a wiki. We don't have the visual editor sorry, but an introduction to how to format the pages can be found here.
🌍 Browse the wiki 🌍
Documenting merchandise
If you have the product code for a piece of one of the near endless amounts of merchandise, you can create an article on it. Note that this wiki is still quite new and only has a few merchandise pages. The merchandise page should be formatted (Description) (Product code: ), e.g. "My Melody bag (Product code: [NUMBER])", though the pages haven't been changed to reflect this yet.
Other categories
📚 Editing guide 📚
Formatting (e.g. creating links, making text bold)
👸 Community portal 👸
Talk about Sanrio here and other topics.
Task ideas for work on the wiki.
Sanrio news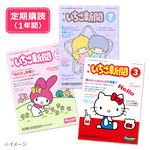 (Add news here)
Site news