Shintaro Tsuji
From Sanrio Wiki
Jump to navigation
Jump to search
This article or section is about a person. While adding images to this article, please respect their privacy by not adding images from social media or university/college/study institutions, but officially published Sanrio interview images are allowed.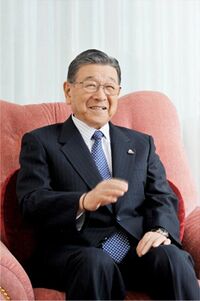 Shintaro Tsuji (Japanese: 辻信太郎), born on December 7, 1927 is the founder of Sanrio, a producer of Sanrio films from 1977 to 1985 and storywriter.
He worked on the establishment of the theme parks Sanrio Puroland on November 12, 1987 and Harmonyland on October 22, 1988.[citation needed]
On November 20, 2013 his eldest son Kunihiko Tsuji sadly passed away.
External links
[
edit
]