Strawberry
From Sanrio Wiki
Jump to navigation
Jump to search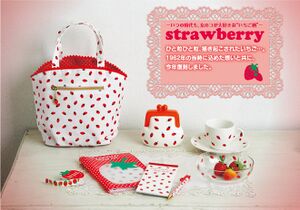 Not to be confused with Strawberry King, Strawberry News.
Strawberry (Japanese: いちご) is an early Sanrio brand that originated in 1962, when the company was still known as Yamanashi Silk Center.
On the official Sanrio website, it is considered as a character design.[1][2]
In 2010, the brand was re-issued.[3] Some Strawberry branded items include handkerchiefs, bags, notebooks, memo sheets, pens, tea-cups, dishes and bowls.