Hello-ween (HALLOWEEN 2020) (Hello Kitty and Friends Supercute Adventures)
From Sanrio Wiki
Jump to navigation
Jump to search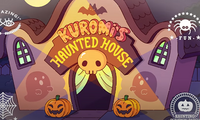 Hello-ween (HALLOWEEN 2020) (Hello Kitty and Friends Supercute Adventures) is a Halloween 2020-themed animated short and an episode of Hello Kitty and Friends Supercute Adventures by YouTube channel Hello Kitty and Friends.
Summary
[
edit
]
In this episode, Kuromi owns a haunted house called Kuromi's Haunted House, with a Halloween-themed room with objects like hanging ghost decorations, skeletons, pumpkins, gravestones. Kuromi is shown to own the house, but she wakes up apparently after a dream (possibly thinking about what the day would be like). It is then revealed it's both her birthday and Halloween (October 31st).
Kuromi steps into a building which is mainly empty (apart from some spiders) and she faints. When Kuromi wakes up, Hello Kitty and Pompompurin present her with a present and cake (respectively). My Melody and Kerokerokeroppi step in with a drum and colourful sweets(?), wishing her a happy birthday.
Kuromi is angry that there aren't any decorations and screams "Where are my decorations!?". Pompompurin, stressed wonders whether they were edible, and Kerokerokeroppi asks her if she looked under her bed. Kuromi thinks it's a conspiracy and says "nobody puts Kuromi in a corner" while holding her black smart phone and thinking about buying lots of springs with same day delivery. My Melody is upset that Kuromi didn't get to try her "yummy ice-cream cake", then Pompompurin licks it, as if to eat it.
Hello Kitty asserts the best gift Kuromi needs is a "super surprise haunted house", but Kerokerokeroppi wonders how they are going to do it. They then assign roles, with My Melody and Pompompurin assembling costumes together, Badtz-Maru for "pranks, effects and illusions", Kerokerokeroppi for cheering up Kuromi and keeping her busy (such as with toy balloons). Hello Kitty meanwhile is responsible for building the haunted house itself until everything is finished.
The team blindfold Kuromi. My Melody takes her blindfold off and presents the new Kuromi's Haunted House; similar to the dream. Kuromi loves it, and thinks it's pretty cool. While sitting in a cart, Pompompurin in a ghost suit takes Kuromi around to explore it. Keroppi activates some of the traps/pulls a clown face, which startle Kuromi somewhat; and Kuromi adores Badtz-Maru as a vampire in a coffin. She also finds Hello Kitty as a mummy amusing. My Melody whisks a pool of water, revealing a crocodile (similar to Pochi) that Kuromi likes.
The team ask what Kuromi thinks, and she says it's "not bad for beginners", and says she'll leave them to rest until the springs and lasers are set up. They think Kuromi is joking about the lasers at first, until lorries with pictures of lightning on them appear as part of some "super-fast delivery" service. Kuromi laughs with sharp teeth and the short ends.
External links
[
edit
]