Peanuts (franchise)
From Sanrio Wiki
Jump to navigation
Jump to search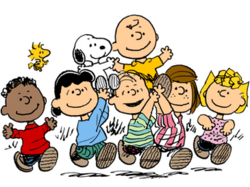 Peanuts is a franchise introduced in the 1950s by Charles M. Schulz as part of an American comic strip.
Peanuts features the life of characters Charlie Brown and his sometimes selfish but loyal dog Snoopy who are joined by other characters such as Peppermint Patty, and Woodstock; a small yellow bird who is Snoopy's best friend.
The franchise has since seen an animated series and more recently a movie known as The Peanuts Movie.
In Japan, the Peanuts merchandise is currently licensed to Sanrio, while Universal Studios Japan hold the license to the characters.
Attribution: Big thanks to Peanuts Wiki (Wikia)